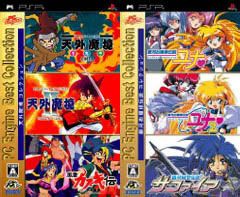 Coming out on July 31st (tentative), are two excellent collections of classic PCE games for the PSP.
Tengai Makyou Collection contains:
Far East of Eden Ziria
Far East of Eden II: Manji Maru
Tengai Makyou: Fuun Kabukiden
Kabuki Itouryodan
Ginga Ojousama Densetsu Collection contains:
Ginga Ojousama Densetsu Yuna
Ginga Ojousama Densetsu Yuna 2
Ginga Fukei Densetsu: Sapphire
Both are priced at a very reasonable $29.90 @ Playasia.com. I personally am looking forward to these collections (even though I own them all in original formats). Seeing these games on the sweet PSP screen, and in a portable format will be great. If you have a PSP, consider looking in to these sweet collections, as they have some great games included.